Electric vehicle incentive
Save up to $750 with an instant rebate on the purchase or lease of a new plug-in electric vehicle.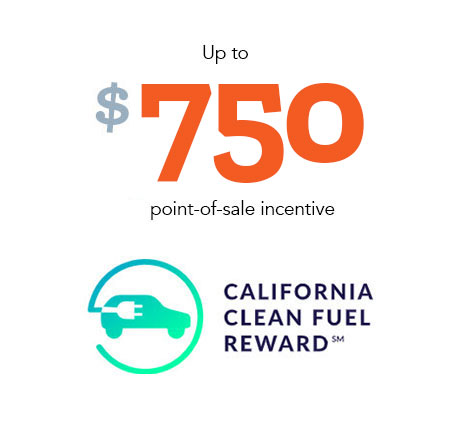 ---
Get up to $1,000 toward EV charging equipment and installation costs.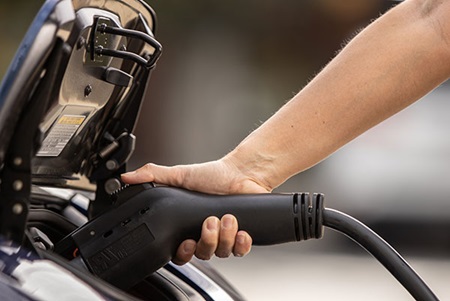 SMUD's new Charge@Home incentive program will help you lower the cost of installing a qualified Level 2 charger at your home and/or home electrical costs needed to install a Level 2 charger.
Eligibility
If you've purchased a new or used electric vehicle on or after July 1, 2021, you are eligible for up to $500 towards the purchase of a Level 2 charger and/or up to $500 towards electrical work (building permit required) needed to accommodate your new charger.
A one-stop shop for all things EV
PlugStar is an online tool that helps make electric vehicle shopping easy. Find the EV that best meets your needs and gets you connected with a qualified EV dealer near you.
Have a question or want to talk to someone about EV or EV charging options? Access SMUD's EV Support Program by emailing support@pluginamerica.org or call 1-877-EV-HELP-1 (1-877-384-3571). Learn more about the EV Support Program.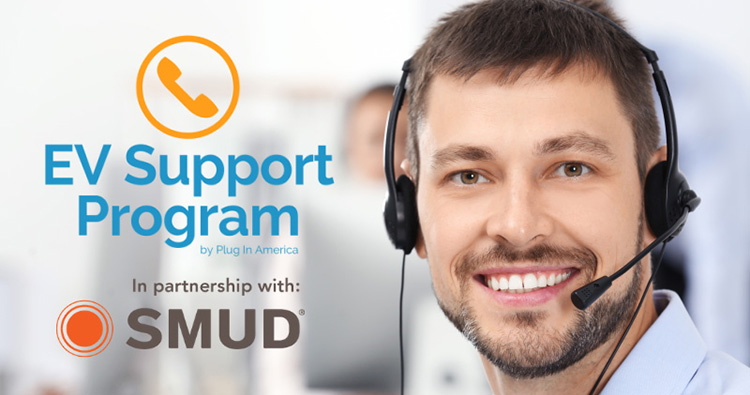 Frequently asked questions
There are many things to consider before buying or leasing an electric vehicle (EV). To make EV ownership as simple as possible, here's a quick list of things to consider before you buy an EV:
PlugStar
This online tool helps make electric vehicle shopping easy. PlugStar helps you find the EV that best meets your needs and gets you connected with a qualified EV dealer near you.
Electric Vehicle Estimator
This online tool helps you make an informed decision about buying an EV. Use the estimator to compare costs to buy and drive an EV versus a gas engine vehicle and decide if an EV fits your lifestyle.
(You'll be directed to log in to My Account and then will be sent to the estimator tool. It uses your actual electricity usage to present realistic side-by-side cost comparisons between electric vehicles and gas vehicles that you select.)
Please note that after March 15, 2021, WattPlan will no longer support Internet Explorer 11, effectively ending support for all versions of the Internet Explorer browser.
Don't have an account yet? Registration is free.
You can also try the estimator by entering your data yourself, here.
Charging stations are described as level 1, level 2, or DC Fast Charger (Direct Current Fast Charging).
Level 1
This uses ordinary household current. All electric vehicles can be charged on a standard 3-prong outlet and the charging unit that comes with your vehicle. It is the slowest charging mode for an electric vehicle.
Uses a standard 120V outlet
Takes 8 to 20 hours to fully charge a vehicle, depending on how depleted the battery is and whether it's a hybrid or fully electric vehicle
Typically adds 5 miles of range per hour charged
No set-up costs
Level 1 safety tips:

When charging a plug-in electric vehicle with a Level 1 EVSE, a heavy duty, 20-amp, hospital-grade 120 volt receptacle is recommended.
Periodic inspection of your EVSE power plug is recommended.
Excessive plugging and unplugging of EVSE at the wall receptacle can cause wear, potentially leading to arcing.
Refer to your EVSE manufacturer's installation and user guide manuals for specific safety guidelines.
Level 2
Consider upgrading to a level 2 charging station if your vehicle has an electric drive range of 100 miles or more, or you simply want a faster charger. Consult your dealer for advice.
Uses a 240V circuit
Takes 4 to 8 hours to fully charge a vehicle, depending on how depleted the battery is and whether it's a hybrid or fully electric vehicle
Typically adds between 12-20 miles of range per hour charged
May require a panel upgrade by a qualified electrician. Find information about installers for your electric vehicle charger at SMUD Energy Store.
Requires EVSE (Electrical Vehicle Supply Equipment) and permits
Available at some work and public sites
DC Fast Charger
This type of charger is not practical for residential installations due to cost and electrical equipment limitations.
Use a 480V circuit
Takes 20 minutes to reach 80% charge
Requires a special plug receptacle on your vehicle
Available at some public sites
Public Charging Stations
SMUD Charging Stations
You can charge most fast-charge EVs in less than 30 minutes at one of SMUD's charging stations.
SMUD solar parking lot

6151 S Street, just west of the SMUD Headquarters building.
Get directions

Sacramento International Airport




Free waiting area




5750 Crossfield Dr.


Get directions
Sacramento Natural Foods Co-op




2820 R Street, Sacramento


Get directions
With SMUD's Time-Of-Day (TOD) rate, plug-in electric vehicle owners can receive, an additional 1.5¢ per kWh discount for charging your EV between midnight and 6 a.m. every day, all year long.
For a SMUD account to receive the EV discount, a plug-in electric vehicle must be registered with the DMV using the same service address as the SMUD account.
Learn more about the Time-Of-Day rate.
To enroll in the discount, go to
MyAccount
.
Learn more about EVs and if it is the right choice for you at one of our workshops or events.
We have an ambitious goal to eliminate carbon emissions from our power supply by 2030. Reduced emissions improve our local air quality and overall health and help address the looming threat of climate change.
Learn more about our 2030 Clean Energy Vision
.
Testimonials
Hear what SMUD customers have to say about owning an EV
In the last year and a half, I've driven 95% on electricity and calculated that I've saved myself more than $1,000 in fuel based on the real-world mileage of my previous [gas-powered car].
I've been an EV owner for five years now. It literally has been life changing for me. I work as an environmental professional and see first-hand the effects from an international, national, regional and local level what oil-based transportation does to the environment, our national security and our well-being.
We don't have to stop off at the gas station to fill up. We don't have to change oil or coolant and regenerative braking saves on our brake pads. Best of all, we can forget about smog checks because we're already at zero emissions.
Franklin's EV experience
Franklin and his family loved their first EV so much they purchased a second one. They're now hooked and can't imagine a life without an EV. Hear more from Franklin in the video below.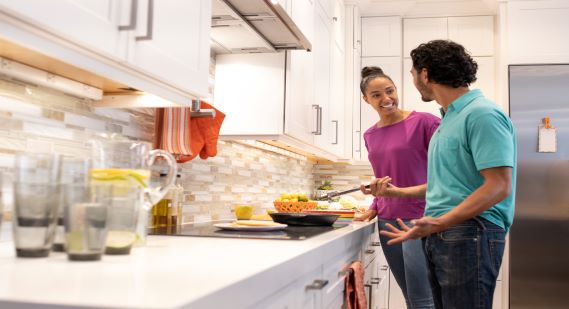 Converting to all-electric living will help save you money on your overall energy costs. We offer rebate programs that can help you transition to a cleaner, safer and more environmentally-friendly lifestyle while lowering your utility bills. The average residential customer that switches from gas to all-electric can save an average of over $500 per year on their energy bills, based on 2020 PG&E gas and SMUD electricity rates.